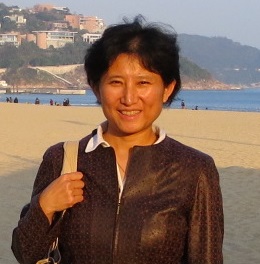 ---
Dr. G. Tong Zhou grew up in Tianjin, China, attended the Tianjin Nankai High School and received her B.Sc. degree in Biomedical Engineering and Instrumentation from the Tianjin University in July 1989. From September 1989 to May 1995, she was with the University of Virginia (UVA), where she obtained her M.Sc. degree in Biophysics/Magnetic Resonance Imaging (MRI) in May 1992, M.Sc. degree in Electrical Engineering in January 1993, and Ph.D. degree in Electrical Engineering in January 1995. She was awarded the 1995 Allan Talbott Gwathmey Memorial Award for outstanding research in the physical sciences at UVA based on her Ph.D. dissertation. From June to August 1995, she was a visiting researcher at the Tokyo Institute of Technology on a National Science Foundation Fellowship. She has been on the faculty of the School of Electrical and Computer Engineering at Georgia Tech since September 1995 where she is now a Professor. During January - July 2001, she was Swedish Research Council for Engineering Sciences Guest Professor at the Chalmers University of Technology in Sweden. In 1997, she received the National Science Foundation Faculty Early Career Development (CAREER) Award. She is also a recipient of the 2000 Meritor Teaching Excellence Award at Georgia Tech. Dr. Zhou is a Fellow of the IEEE.

Dr. Zhou's research interests are in the general areas of statistical signal processing and communications. Specific current interests include power efficiency improvements for communication systems, linearization, nonlinear systems analysis, and various applications areas.

Since 2005, Dr. Zhou has played an instrumental role in establishing Georgia Tech's collaborative education programs in China with partners from Shanghai, Tianjin, and Shenzhen. She was honored with the inaugural Steven A. Denning Award for Global Engagement at Georgia Tech in 2012.
---
Georgia Tech - Shenzhen: Georgia Tech has been offering its existing Masters of Science (MS) degree in Electrical and Computer Engineering (ECE) in Shenzhen, China since August 2014. Students from China, the USA, and other countries around the world are welcome to study at Georgia Tech - Shenzhen. Georgia Tech courses are taught by Georgia Tech faculty on rotational assignment to Shenzhen. Students receive the same MS ECE degree as in Atlanta. Graduate co-op (internship) as well as international exchange options are available. Non-Georgia Tech students from other US universities can apply to study abroad at Georgia Tech - Shenzhen for one term and transfer credits back to their home institution. A high tech city, Shenzhen has the 4th largest GDP among Chinese cities, and the highest GDP per capita among large and medium-sized cities in China. Situated immediately next to Hong Kong, Shenzhen is a well planned city with clean air and high green coverage ratio. Georgia Tech is the first US university to have a major presence in Shenzhen.
China Summer Program - A Georgia Tech faculty-led study abroad program open to students from all U.S. colleges and universities.
China Mentor Club - A service to the Georgia Tech community.
Detailed biographical information.
How to request reference letters
To prospective graduate students
---
Contacting information: G. Tong Zhou / GIT-ECE, 777 Atlantic Dr., Atlanta, GA 30332-0250, USA / +1 (404) 894-2907